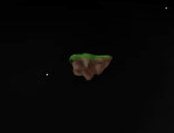 The
Dragon's Nest
(

竜の巣

,

Ryuu no Su

?

)
is an small rocky island located halfway between
Platina
and the
Blast Plate
. Despite being within the
Blastline
, it's possible to live in this area, and life has also flourished in the form of a large forest, which covers the entirety of the island, and a great variety of monsters, which are what give this place its name, because the most predominant are the dragons.
There is also an small village, which seems to be inhabited by Terus, although it hasn't been confirmed if they are indeed Terus or any other races. Garzburn, the only known Draconoid, also resides in this area, and offers Lyner and his friends a great number of ancient tools and recipes he has collected with the course of the years.
History
Luke, Krusche's boyfriend, was in this place at one point, but after obtaining a map of Sol Cluster from Garzburn, he departed for the Third Tower, and left only a toolbox for Krusche. Garzbern only gave her the toolbox, yet he never revealed where Luke had gone to.
Also, while initially Garzburn seemed to be enraged by the fact that Lyner and company had defeated Slepnir, he actually was pretty glad to hear, and thanked Lyner for not having to continue fighting against it for the suprmacy of the island.
Krusche was distraught to learn that Luke never bothered to say good-bye or where he was going, and it took Lyner cheering her up for her to regain her usual attitude. Once she did, she teased Lyner with becoming his girlfriend, but she quickly told him that such a relationship would never work.
Layout
While the forest and village that compose the explorable areas of the Dragon's Nest aren't composed of many rooms, the place itself is quite large, and requires the usage of several Fertilizers in the Stonetree ledges in order to proceed. Due to being located inside the Blastline, this place also drains the HP of the party with each step they take, so it's required to be very careful while exploring it to not be killed by the monsters in the area.
This place is optional, and visiting it isn't necessary to complete the game, but it grants the players the chance to obtain several rare ingredients and recipe cards. The Dragon's Nest becomes available upon obtaining the Gungnir airship.
Maps
Treasures
Monsters
Number of Random Battles in this Area: 10
Shops
General Store KA-DO-YA
Garzburn's Antique Shop
Community content is available under
CC-BY-SA
unless otherwise noted.