Chanting the Moon ~Tsukikanade~ Ar tonelico Hymmnos concert Side Red
Information
Title in Kanji/Kana
月奏 ~ツキカナデ~ アルトネリコ ヒュムノスコンサート サイド 紅
Romaji Title
Tsukikanade ~TSUKIKANADE~ Aru Toneriko Hyumunos Konsaato Saido Aka
Discs
1
Length
47:13
Release Date
January 25th, 2006

One of the three albums that accompanied the release of Ar tonelico: Melody of Elemia, and one of the first set of the Hymmnos Concert series albums, this CD contains all of the songs sung by Haruka Shimotsuki and Noriko Mitose, who serve as the Hymmnos Singers for Aurica Nestmile; and Shurelia and Mir, respectively. It also contains the ending theme to the game, EXEC_PHANTASMAGORIA/., and four bonus songs, one vocal and three instrumentals, that aren't in the game.
Tracklist
Limited Bonus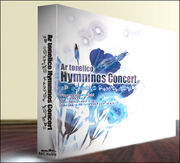 This album, and
Singing the Stars ~Hoshiyomi~ Ar tonelico Hymmnos Concert Side Blue
, could be bought together in a pack that included special slip covers called Hymmnos Case I for storing both albums together.
Trivia
LORE originally was going to be used in the game, as a dummied out sound file in the game's data shows. However, in the end it was re-arranged with better samples and left out as a bonus track.
Community content is available under
CC-BY-SA
unless otherwise noted.