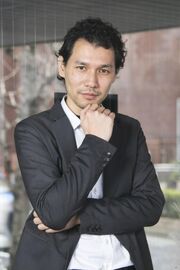 "Creators always try to give nice presents to the players, which was the mentality I had as I worked on this project."
—Akira Tsuchiya—

Akira Tsuchiya (土屋暁, Tsuchiya Akira?) is a Japanese game music composer, game designer, director and producer who is known as one of the main members of the Gust Sound Team and the creator of the Ar tonelico and Surge Concerto series. He joined Gust Ltd. in 1998 as a composer after he finished his college studies. He currently resides in Nagano, Japan.
Profile
Tsuchiya started his career at Gust Ltd. in 1998 as one of the composers and arrangers for the second game in the Atelier series, Atelier Elie: The Alchemist of Salburg 2. He enjoyed a moderate success due to the positive reception of the score he composed alongside his senior colleagues Daisuke Achiwa and Toshiharu Yamanishi, and thus he went on to score the music for several other games produced by the company.
In 2000, he pitched to the company the idea of creating a classic-styled fantasy RPG based from a tabletop RPG setting he made to play alongside his friends during his college days and gave to it the name Ar tonelico. However, the game was vetoed by Kazushige Masuda, who would later on be appointed as the director of the Atelier Iris subseries. Masuda told Tsuchiya that the game wouldn't garner much interest from the players due to the excessive focus it had on magic, as well as the extreme degree of difficulty it had because the spells depended on a complex synthesis system for their creation.
Therefore, Tsuchiya returned to his composer duties, though he also lent a hand by giving ideas such as the shop events and shop synthesis systems that were used in Atelier Iris: Eternal Mana, as well as also designing its logo and several other of its aspects. However, he still eagerly wished to make true his dream of making that RPG based on his own original world setting, and he saw his golden chance when Banpresto decided to approach Gust once again after having noticed how their first collaborative effort, Atelier Marie, Elie and Anise: Rumors of the Gentle Breeze, was a moderately successful game.
With this, Tsuchiya began maturing the idea for the game and restructured the setting by making several large-scale changes to it, the greatest of them being the addition of the Reyvateil and Cosmosphere concepts. The latter one was completed with the collaboration of producer Atsunori Kawachi, who provided him with several tips, ideas and concepts gained from his experience on Banpresto, and it was through this clashing and harmonizing of ideas that Ar tonelico took its current form. He also was the main creator of the Hymmnos language used in said games, as well as its other versions: the New Testament of Pastalie, Carmena Foreluna and Ar Ciela. Aside of his work on the game setting and the games themselves, he was also quite attentive to the players and fans during the lifetime of the series, and served as one of its main PR outlets, being the creator of the Ar Portal official fansite, its Supporters' System and all of their related features, being one of the main writters and supervisor of the Toukousphere, and being the writer of pretty much all the columns that appeared on the Ar Portal.
Tsuchiya is still working for Gust at the moment, even after it became a subsidiary of Tecmo-Koei, and while his lifetime project Ar tonelico came to an end with its third and final entry, the universe he created through it: the Universe of EXA_PICO, still lives on through the Surge Concerto series and the links it has to the Ar tonelico series, in which he also serves as the main overseer and the creator of the constructed languages featured on it: Emotional Song Pact and REON-4213.
Works Within the Series
Game
Tsuchiya's Credits
Ar tonelico: Melody of Elemia

Localization Director (Western versions only)
Game Design
Scenario Writer (partially)
Map Design (partially)
Opening Theme Composition, Arrangement and Lyrics
Ending Theme Composition and Arrangement
Sound Director (with Ken Nakagawa)
In-game Movie Editor
Total Sound Imaging (with Akiko Shikata)
World Design
Total Command

Ar tonelico II: Melody of Metafalica

World Design - Sphere Master
Scenario & Screenplay (partially)
System Design (partially)
Event Director (partially)
Title Logo Design
Opening Theme Composition, Arrangement and Lyrics
Ending Theme Composition and Arrangement (alongside Akiko Shikata)
Total Command

Ar tonelico Qoga: Knell of Ar Ciel

Scenario and Plot Writer
Script Writer (partially)
System Design (partially)
Opening Theme Composition, Arrangement and Lyrics
Total Command
Localization Director (Western versions only, alongside Ryuta Sato)

Ciel nosurge: Ushinawareta Hoshi e Sasagu Uta

World Design (partially)
Plot Writer for the Dream World Segments (partially)
Director
Game Planner
Data Planner (partially)
Balance Manager
Server Programmer
Event Scripting (partially)
Director, Storyboarding and Producer - End of Chapter Movies for Chapters 2 to 11
Opening Theme Composition and Lyrics
Composer and Lyricist for Ra Ciel Fuser (partially)
Composer, Arranger, Lyricist and Mixer for all the versions of Ra Ciel
Total Command

Ar nosurge: Ode to an Unborn Star

World Design (partially)
Plot Writer
Main Scenario Writer
Genometrics Plot Writer
Genometrics Script Writer (partially)
Director
Game Planner
Event Planner (partially)
Digital Movie Maker: OS Console, Town Map Preview, Genometrics and Synthesis Backgrounds
Opening Theme Composition and Lyrics
Total Command
Trivia
Tsuchiya is called the "real-life EXA_PICO" among the fans.
Tsuchiya has admitted himself to being an otaku, and that he makes the games the way he does just because he likes the elements he puts into them. This is why he usually doesn't take nonsense when it comes to the inclusion of elements that people overseas would find questionable or offensive, such as the exploration of sexuality during the Dives.
Tsuchiya has been known to be quite the slave-driver when it comes to his staff, an example of this being when he had Yuko Ishibashi sing in a voice-recording booth for several hours and without air conditioning during the recording sessions for EXEC_HIBERNATION/. Similarly, several of his decisions, such as changing Ciel nosurge: Ushinawareta Hoshi e Sasagu Uta from being a mere filler project to a full game or not keeping ntny under wraps during the creation of Ar tonelico Qoga: Knell of Ar Ciel's character models have caused problems for all his staff, and also caused FlightUNIT more losses than earnings in the financial department. Even so, all the staff that have worked with him reportedly enjoyed the time they dedicated to his projects and would be willing to work with him again.
Tsuchiya has appeared wearing disguises in some of the official Gust broadcasts ever since the Surge Concerto series began: he appeared as an Indiana Jones-like adventurer archeologist during the reveal video of the Kurt Hymneth ~The Songs that Conversed with the Gods~ boxset, and he has appeared as a Genomirai researcher in the Ciel nosurge Special broadcasts.
There was a time during which he went under the "EALIA" seudonym, as seen from the Atelier Lilie soundtrack liner notes, and he even opened a couple of websites called "EALIA'z creative labo -Mansion-Colored-of-Illusory-Sounds-", and "Flash Sound Tea Shop", both of which were closed off at some unknown point in time. However, he used to develop free flash games in them, as well as music that were supposed to set the mood for stories written by himself, and Flash anime-styled animations. He also participated in the creation of some doujin music CDs that were sold in the Comic Market.
Aside of his works in Gust, Tsuchiya also made a guest contribution to the Nippon Ichi Software PlayStation 2 game Tori no Hoshi ~Aerial Planet~, in which he wrote the lyrics for its image song "The Blue Star".
Community content is available under
CC-BY-SA
unless otherwise noted.